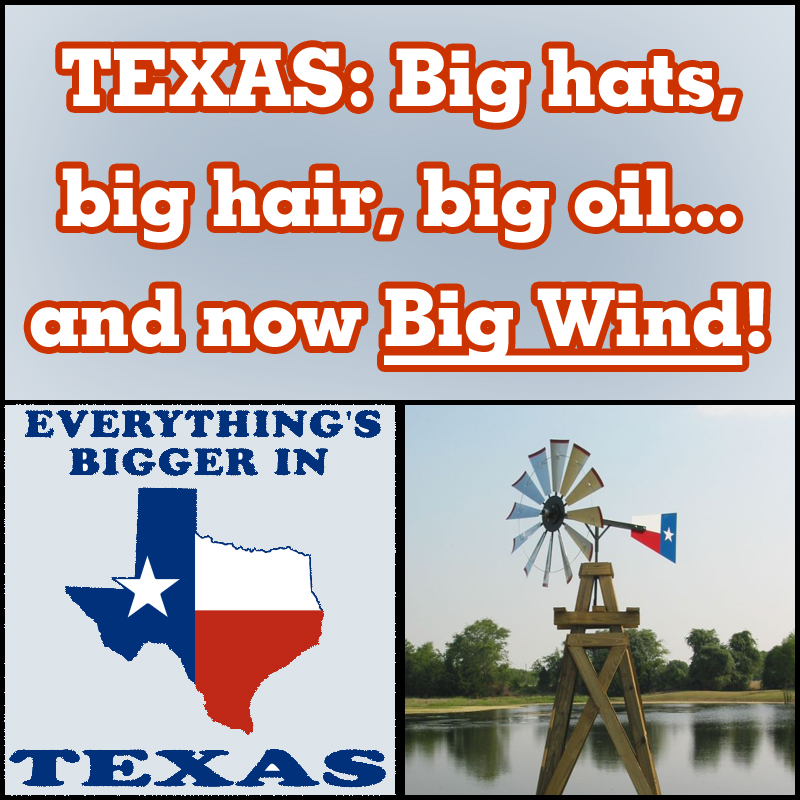 While the rest of the United States remains mired in a sluggish recovery from the 2008 financial meltdown and the persistent recession that has followed, the great state of Texas has not. Not only has the Lone Star State's economy grown and its population increased, employment figures continue to rise at pleasing rates, and all of these factors combine to make the state a model in the promise of managed dynamic growth.

With all of that relative atypical growth comes an ever increasing hunger for electricity  Since 1960, Texas' total energy consumption has grown by an average of 2.2  percent per year, and it shows no signs of abating.

Not surprisingly, Texas produces and consumes more electricity than any other state in the Union. But what may be surprising to some is the fact that more and more of that demand for electricity is being met by wind power, a bit of an odd concept for a state that was made and is still dominated today by Big Oil.

The strain on the state's power grid has, of course, become a massive problem, especially during summer months when demand outstrips supply. In 2011, several spikes in wholesale electric prices were the result, causing headaches for businesses and residents and the power reserves alike. The two following summers were equally bad, but generally cooler weather in 2013 prevailed and helped to relieve the strain on the grid.

Since that time, the Electric Reliability Council of Texas , which operates some 85 percent of the state's power grid, has added coal and natural gas generators to meet the demand, but even so, the lion's share has been from its installation of wind generators, located mostly in windy western Texas.
Over 40 different wind farms dot the landscape, and they currently generate over 12 thousand megawatts of power. In 2012, they were responsible for nearly 10 percent of the state's total power output. That has increased by leaps and bounds since the Texas Renewable Portfolio Standard was created by the Texas senate in 1999.
As far as the future goes, no doubt wind will continue to be a huge factor in Texas energy production.
A massive storage system opened a year ago in west Texas. It stores 36 megawatts of power, making the variables in wind energy production less important and the system in total more reliable.
A link between the eastern and western grids of the state is being developed to allow for more flexibility in importing and exporting power from the state.
On top of that, a 300 megawatt wind farm is planned for Galveston, as well as a 2,100 megawatt yawing turbine farm off the gulf coast.
No doubt oil will remain a big player in Texas for the time being, but watch out oilmen. Wind is on the rise in the Lone Star State, and it will not be denied.
Source:
EarthTechling