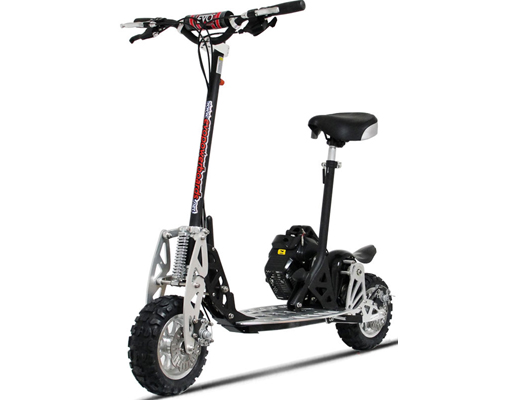 The Evo 2x Big 50cc Powerboard is featured in this weeks Eco-Friendly Transportation Series. If you find yourself in need a gas powered scooter that is easy on the carbon footprint yet is fast and responsive and a whole lot of fun too, Puzey Motor Corp. has just come out with a new model, the Evo 2x Big 50cc Gas Scooter. I had a chance to test this scooter today, and I've got to say that I am impressed, and I am not easily impressed.
Capable of reaching speeds upwards of 35 mph, the Evo 2x packs a lot of punch in its EPA-approved air-cooled engine. It's a 50cc, 2-stroke motor that puts out a full two horsepower, which provides a ton of raw power for the rider to enjoy. The engine has a conveniently located pull starter, which starts up the scooter quickly and easily.
Riders can expect a 20 mile range per tankful of gas, more or less depending on the terrain ridden and rider weight. The scooter gets 85 mpg. It can carry a 265 lb. rider with ease.
The Evo 2x Big 50cc Powerboard is chain driven, and when needed, the chain can easily be tightened with Puzey's "One Touch Tensioning," which allows you to tighten the drive chain with one simple and easy motion, without having to align the rear wheel.

With motocross-style handlebars, the Evo 2x is super responsive to twists and turns, and the height is fully adjustable to accommodate any height rider.

Built not only for power and speed, the Evo 2x Powerboard was designed with strength and reliability in mind. The frame is built of high tensile steel, with a CNC aluminum deck, a combination which can take a beating and still keep you moving. A front "Cam-Link" suspension offers you a smooth ride and excellent resistance when landing after jumps and other tricks.

Coming to a quick stop is not an issue, as the Evo 2x sports front and rear vented disc brakes. Its 11" pneumatic knobby tires grip the dust and move the rider forward easily.

For rider comfort, the Evo 2x gas scooter offers a fully padded bicycle style seat with a fully adjustable post. The scooter comes in at a mere 53 lbs. net weight, which makes it easy to transport and store. But what's even better is the fact that this scooter folds down to a compact size. It's operational size is 29" x 24" x 50", but it folds down and locks into a handy 36" x 24" x 18", making it easy to stow away.

Source, PRLog.org: Evo 2x Big 50cc Powerboard Gas Scooter