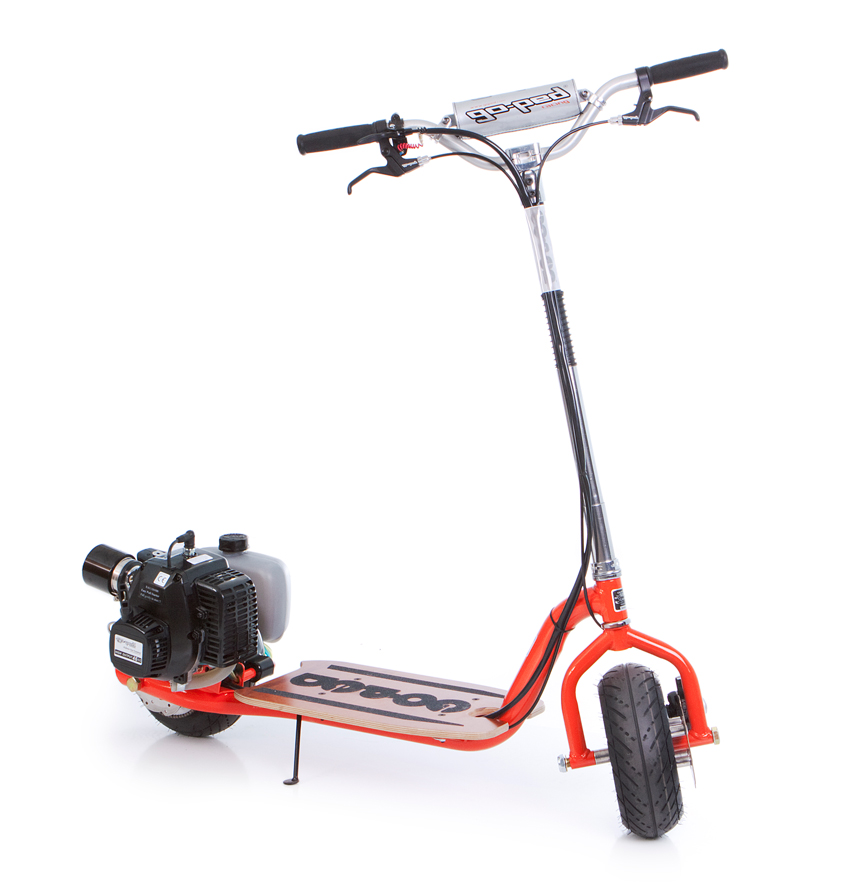 The Go-Ped Super GSR46R gas powered scooter  is our current featured product for our Eco-Friendly Transportation Series! And we here at TerraAlert.com are excited about this scooter; it promises to be an excellent an alternative to a standard car.
For those of you worried about losing speed should you make the switch, the
Super GSR46R
does not disappoint. This scooter is surprisingly fast, with speeds that reach up to 30 mph. Not to mention that compared to a car, this scooter has a range of about 60-80 mpg! (miles per gallon).  It's perfect for a commute to work, the local campus or for recreational racing. It is also super light to boot.
This smaller, lighter scooter has the same impressive engine found on the
GTR 46 Trail Ripper
. The GP460RS race engine delivers 4.5 HP and 2.31 ft-lbs torque with a 17,500 redline, providing for excellent performance at low and high speeds.
This Scooter is tunable and can reach an imposing 5.5+ HP and 2.6+ ft-lbs of torque with the addition of an aftermarket expansion chamber. All of this is still pocket change when you consider the costs of purchasing, filling up and maintaining a car.  All of the finest racing components come standard on the Super GSR 46R: Heavy duty 4130 chromoly steel frame and double sided fork, 10" KENDA 671 street tires and 20" Motorcycle style "Tim Patmont bend" racing handlebars fitted with a slide tube clamp, billet stem pro clamp, Go-Ped race pad and Pro control levers. The front and rear Mad Dog disc brakes provide excellent braking performance perfectly matched for the power output of the
Super GSR46R
.
For good quality, and environmentally friendly transportations alternatives, Go-Ped is our number one choice for scooters. For over two decades, Go-Ped has been the standard when it comes to competitive scooter innovation.  They produce the most race proven scooters in the world.
This is the perfect ride for, not just the environmentally conscious, it's also great for those looking to save money or just have some adrenaline packed fun.