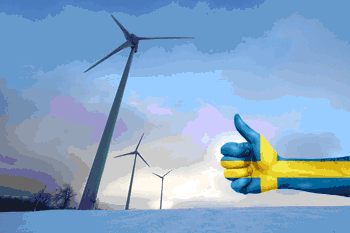 According to Reuters, Sweden is currently in the process of generating all its energy from renewable sources by 2040, a high ranked regulatory officer from the nation recently disclosed.

Renewables, for example, wind and hydro a year ago accounted for 57 percent of the Nordic country's 159 terawatt-hours (TWh) of power generation, with the majority of the rest originating from nuclear, disclosed Anne Vadasz Nilsson, Director General of the Swedish Energy Markets Inspectorate.

"We are not heavily populated, we have a considerable measure of good places to position large-scale land-based wind and there is great potential for that in Sweden," Vadasz Nilsson informed Reuters during an interview on the sidelines of the Singapore International Energy Week symposium.

Swedish production of wind power has progressively increased as it turns out to be more cost-effective, and it now consists 10 percent of the nation's total energy generation, from practically zero some years back, she disclosed.

Sweden intends to add 18 terawatt-hours (TWh) of yearly renewable power production by 2030.

It doesn't plan to finance more nuclear energy and it is improbable that any new nuclear reactors will be constructed given low power costs, revealed Vadasz Nilsson. That is regardless of an arrangement at the beginning of the year to reduce taxes on nuclear power generators.

"Nuclear is a significant costly energy source because of security regulations and financing for long haul nuclear waste management in addition to other things," she said.

"Renewables, which means large-scale winds in Sweden, then again, are less expensive and less expensive to commission and to manage. This as well as low wholesale rates will make it more improbable that new nuclear power plants will supplant the existing ones when they are terminated because of old age."

Right now, of 10 of Sweden's nuclear reactors, 4 are being slowly done away with, she said. Nuclear power has gone under heightened inspection around the globe after Japan's Fukushima fiasco in 2011.

Sweden has no prompt arrangements to construct any new hydropower plants because of environmental concerns, she further said.

"However the simulations we have made demonstrate that because of the high level of interconnection with neighboring nations and the base load from our (present) hydropower plants, the hours with high costs, showing shortage of capacity, will be entirely few," Vadasz Nilsson remarked.

"This alongside a market which is more developed for demand-side reaction will protect capacity even on chilly winter days when the wind hardly blows."