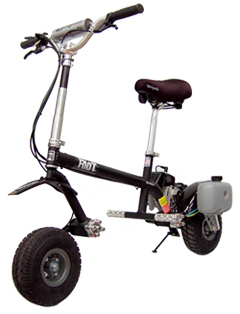 It's time for installation number three of our Eco-Friendly Transportation Series! This time we have those of you interested in more than just commuting in mind. Introducing the
The Go-Ped Riot 29
!
For those of you who are interested in recreational vehicles, the
Go-Ped Riot 29
meets the demand from pit bike riders for a premium quality, super compact, lightweight, low cost off-road bike.
This pit bike is inspired from the top selling and very popular Go-Ped Trail Ripper. Using the patented Trail Ripper adjustable suspension system in the front and rear, it gives riders terrific off-road capabilities with 6" of travel on each end.  And on top of this, like all its competition scooters, the Riot 29 gets between 60 - 80 miles per gallon. This is much more efficient than other recreational vehicles out there. You will saves pennies and do your part to reduce carbon emissions all at once.
This baby is also powered by a high quality Go-Ped GPL290 engine geared at 6:98, the rugged and highly reliable RIOT 29 gives excellent bottom end and a stock top speed of 22mph.
While the RIOT 29 isn't as powerful as its big brother, the RIOT 46, the engine is quieter and more "neighbor friendly," which makes this better suited to those who choose to race closer to home. The centrifugal clutch provides for a very user friendly yet thrill-packed ride. The GoPed RIOT 29 weighs in at only 48 lbs. It's designed for maximum fun in a hassle free package that can be carried just about anywhere. The gel-filled seat is adjustable to fit your needs, and also detaches for easy storage.
Go-Ped launched the motorized scooter craze over 20 years ago, and they have been creating the most high-end, ground-breaking and refined scooters ever since. Go-Ped's are made in the USA and the company is world renown for its dedication to precision.