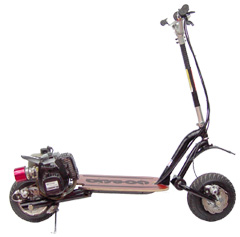 This next Installment of TerraAlert.com's Eco-Friendly Transportation Series. Features the Go-Ped GTR46i Interceptor.
After the wildly popular Go-Ped Trail Ripper hit the scene, scooter aficionados practically begged for a street version. And Go-Ped, not  being one to disappoint, heard their pleas.  Like all of Go-Ped's competition Scooters, this thing is fast, with speeds up to 30 mph, and the ability to get between 60 - 80 mpg, you won't miss the old car one bit, should you make the switch.
The
Go-Ped GTR46i Interceptor
is the street version of the championship-winning Go-Ped Trail Ripper! Alterations include; smooth ride AT Primo Duro Trap aggressive treaded street tires, a new quieter exhaust system, GSR46R 6-76 sprocket drive ratio, and a new kickstand. The GTR46i Interceptor features the (Cantilevered Independant Dynamic Linkless Indispension) suspension system with front and rear swing arms that give the scooter incredible flexibility. The swing arms are made of ultra-light magnesium and produce a very low unsuspended weight, allowing the wheels to stay in better contact with uneven ground. The result is first-rate comfort, riding and handling characteristics.
To accommodate various rider skills, weights, and preferences, the suspension can be fine-tuned from "plush" to "firm" with its adjustors. The lightweight framing, engine, and folding handlebar system contribute to making the
Go-Ped GTR46i Interceptor
a very light weight machine. When you consider its ground-breaking C.I.D.L.I. suspension, 4.5 horsepower GP460RS motor, superior Mad Dog Disc brakes, and other race quality features, it's easy to see that other stand up street scooters simply don't compare to the GTR46i Interceptor.
Go-Ped launched the frenzy over motorized scooters over 20 years ago,  and they have been crafting top- quality scooters ever since. Go-Peds are made in the USA and the company has an international reputation for its dedication to excellence.