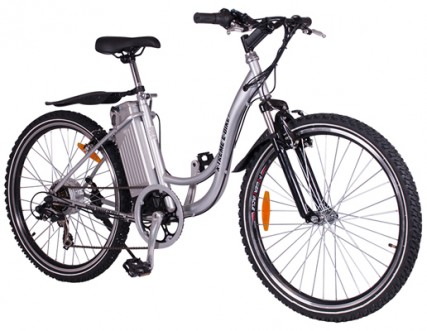 The X-Treme XB-305-SLA electric mountain bike is featured in this weeks Eco-Friendly Transportation Series. Like almost any other person I know, I like getting around in style and at a speed that won't slow me down. But I'm also careful while I'm doing it, because I don't want to spend my time using a smog-spewing ride that poisons the planet at the same time. I also like to off-road, so when I saw that X-Treme had come out with a new electric mountain bike, I got pretty excited. I got to test out the XB-305-SLA on my local hills, and it was a great ride.

Coming in at a mere 63 lbs., the X-Treme XB-305-SLA electric bike features a step-through 18" steel frame that's ideal for female riders who appreciate a stylish, strong entry level mountain bike. It can carry a rider weighing up to 350 lbs. for up to 10 miles on a single charge, at up to 20 mph without pedaling, more of course when you do get those legs pumping.

Two 12 volt, 12 amp sealed lead acid batteries feed the XB-305SLA's 300 watt brushless hub mounted motor, located in the center of the rear wheel. This means there are no chains or belts to worry about, as power is applied directly to the wheel itself.
The X-Treme XB-305-SLA has high quality 7-speed Shimano Tourney gears and shifter that work together with a TX-31 rear derailleur and gearbox, which allowed me to pedal, to turn on the Twist and Go (TAG) system which activated the motor when the throttle was turned, or to use the Power Assist (PA) mode, which made pedaling easier as the engine came on to provide a boost at every full 360 degree rotation of the pedals.
The XB-305-SLA mountain bike was not only smooth and responsive, and powerful to boot, I felt very safe and comfortable while riding it. The front and rear caliper brakes brought me to a quick stop when I needed it. The bike's 26" Kenda pneumatic tires, mounted on double wall alloy rims, gripped the dirt authoritatively, without slipping or sliding (unless I wanted to, that is). The seat was super soft, with double rubber springs to cushion any blow.
I would not hesitate to recommend this electric mountain bike to any of my friends or family members who want an entry level mountain bike that packs a lot of features into a quality built, stylish and affordable model.
Source,
PRLog.org: X-Treme XB-305-SLA Electric Mountain Bike