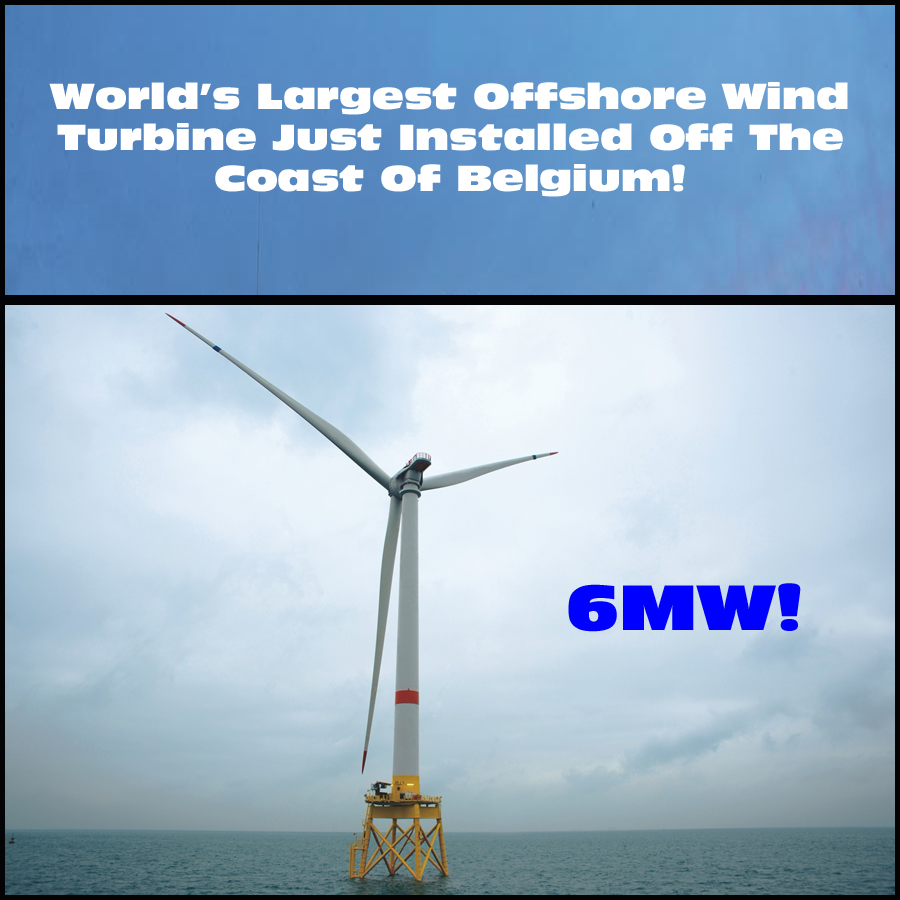 The world's largest offshore wind turbine generator has just been installed some 28 miles off the coast of Ostend, Belgium, and the massive structure is capable of generating a whopping six megawatts of power, enough to provide ample power to 5,000 households, a decent 15 percent more than today's turbines.

Working at the behest of Belwind Offshore Energy of Belgium, Alstom is the designer of this particularly efficient piece of oxygen-friendly technology. A French multinational leader in the world of power generation, transmission and rail infrastructure, Alstom is based in Levallois-Perret, which is just west of Paris.
The company designed the
Haliade 150-6MW
wind turbine to easily handle being buffeted by 112 mile per hour constant winds, and it is able to withstand gusts clear up to 156 mph, the largest ever recorded on the planet to date.
The huge turbine's generator is powered by a rotor clocking in at a massive 492 feet in diameter. Each of the system's three blades are 241 feet long, and are supported by a huge mast and coupled to a 400 ton nacelle. In all, the unit towers over 328 above sea level, and clocks in at a weight of 1,500 tons.
"This project with Belwind asserts our technological leadership and our innovative abilities," said Alstom Wind Senior Vice-President Alfonso Faubel. "The installation of our turbine which is simple, robust and efficient thus contributing in boosting the competitiveness of offshore wind energy."
The Haliade 150 generates up to 40 percent more electricity per kilogram of material used in most of today's offshore generators, making it the most highly efficient unit of its kind in the world nowadays.
Not only is the turbine good for the world's dwindling supply of rarefied and unpolluted air, it's proven to be wonderful for this corner of Europe's economy as well. The construction and operation of the Haliade 150 has created 5,000 permanent qualified jobs, including 1,000 direct jobs at Saint-Nazaire and Cherbourg.
For Alstom and Europe, this is only the beginning, as the company plans to build and install up to seven more large capacity turbines off the coastline. If only the U.S. would take notice and replace its polluting energy generation technologies like coal and gas with turbines such as the Haliade 150, the planet would be better for the effort, and the entire world may follow suit.