Details

Written by

Terry Firma

Category: Transportation
Hits: 4231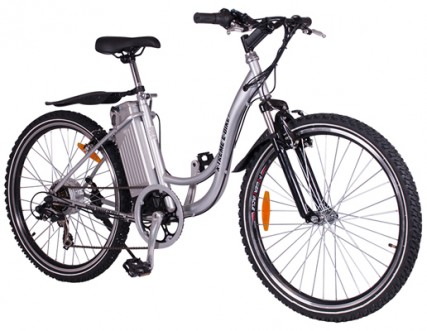 The X-Treme XB-305-SLA electric mountain bike is featured in this weeks Eco-Friendly Transportation Series. Like almost any other person I know, I like getting around in style and at a speed that won't slow me down. But I'm also careful while I'm doing it, because I don't want to spend my time using a smog-spewing ride that poisons the planet at the same time. I also like to off-road, so when I saw that X-Treme had come out with a new electric mountain bike, I got pretty excited. I got to test out the XB-305-SLA on my local hills, and it was a great ride.

Coming in at a mere 63 lbs., the X-Treme XB-305-SLA electric bike features a step-through 18" steel frame that's ideal for female riders who appreciate a stylish, strong entry level mountain bike. It can carry a rider weighing up to 350 lbs. for up to 10 miles on a single charge, at up to 20 mph without pedaling, more of course when you do get those legs pumping.

Two 12 volt, 12 amp sealed lead acid batteries feed the XB-305SLA's 300 watt brushless hub mounted motor, located in the center of the rear wheel. This means there are no chains or belts to worry about, as power is applied directly to the wheel itself.
Details

Written by

Terry Firma

Category: Transportation
Hits: 3639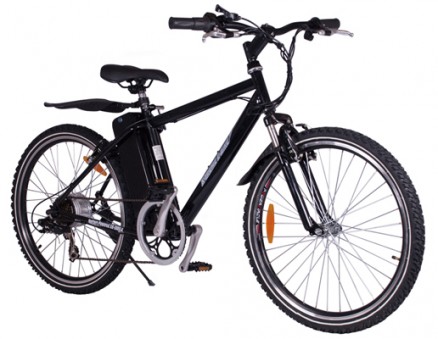 X-Treme's new XB-300-SLA Electric Mountain bike is perfect for entry level or novice mountain bikers with a passion for riding in the great outdoors. You can enjoy the weather and the sport while at the same time take care not to expand your carbon footprint on this weary planet.

As I tested this mountain bike, I really came to like it in pretty short order. The X-Treme XB-300-SLA is probably the lowest cost quality electric mountain bike on the market today. But it's packed with high end features that make it a real bargain, and it's a rugged and attractive looking bike to boot, one that I would not hesitate to ride with others sporting much more expensive models.

The XB-300-SLA mountain bike has an ample 300 watt brushless electric motor, fed by two 12-volt, 12-amp SLA batteries that can keep you moving at a top speed of 20 mph for up to 10 miles on a single charge, without pedaling. You can go faster and farther if you help, so get those legs pumping!

Showcasing a high quality and reliable 7-speed Shimano Tourney gear and shifter system, the XB-300-SLA electric bike has a TZX-31 rear dérailleur and gearbox. You can just pedal, or use the Twist and Go (TAG) system for that extra boost to make it up that hill. If you want to make pedaling easy, you can activate the Pedal Assist (PA) mode, which makes the engine come on for a little boost after every 360 degree rotation of the pedals.
Details

Written by

Terry Firma

Category: Transportation
Hits: 4362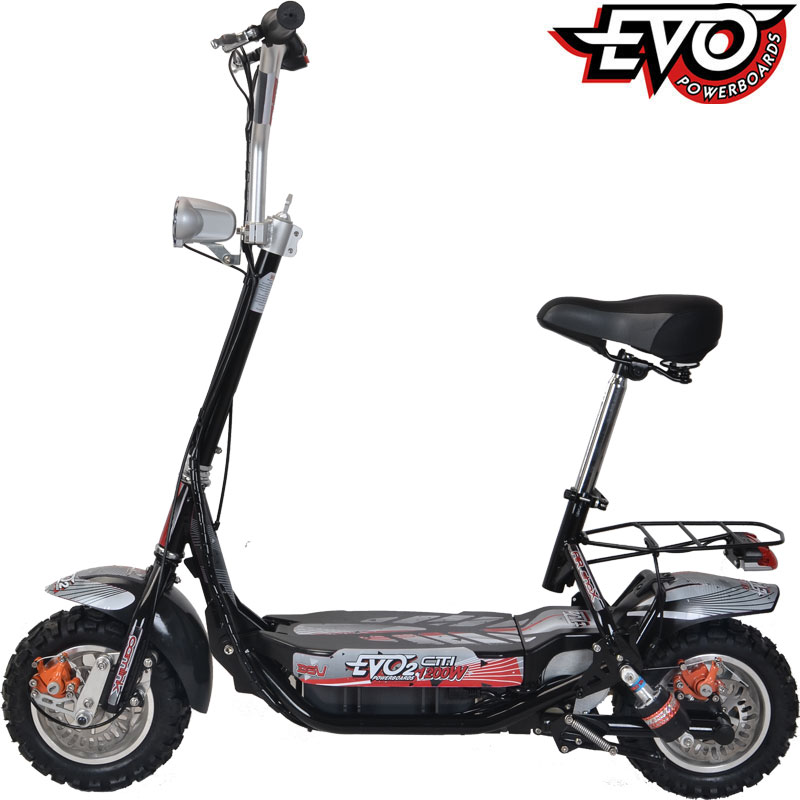 The Puzey designed Evo Citi 800w Electric Scooter Powerboard, which threatens to upset the market due to its high quality features that helps you to ease your carbon footprint and help keep our planet's air clean and breathable.

Capable of being ridden either standing or sitting, the Evo Citi 800w is a comfortable, sporty choice for those seeking components not seen on competitors' similar electric scooters.

First, the Evo Citi 800w Powerboard sports a high-grade twin tube steel frame with quality welding throughout, complemented by an advanced front "Cam-Link" true mono-shock suspension system. With the twin rear shock suspension, system, the scooter offers the rider a smooth and stable ride.

Two 11" pneumatic knobby front and rear rubber tires are mounted on super strong custom forged aluminum alloy rims, and are protected by front and rear fenders which are painted with a durable water resistant coating.

Super reliable and responsive steering is provided by custom Riser handlebars, which offer you a more comfortable ride while either seated or standing. And when you're tired of standing, just mount the cushy, quick release Ergo bicycle style seat, which is mounted on a fully adjustable post to accommodate riders of most any stature.

If you're looking for power, the Evo Citi 800w electric scooter has got you covered with its powerful 800 watt brushless motor that provides over one full horsepower, propelling riders forward at top speeds of 20-24 mph. Electric is provided by a lightweight 3-cell 36 volt battery pack, which gives you a 10 mile range (more or less depending on rider weight and terrain ridden), which can be recharged in as little as 4-8 hours.
Details

Written by

Terry Firma

Category: Transportation
Hits: 2617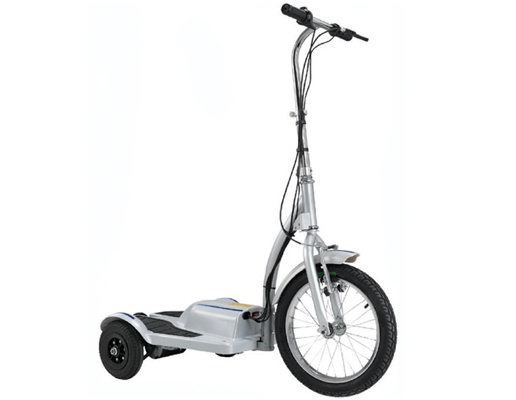 The TRX Personal Transporter Electric Scooter, model #E1050 is an ideal and quite affordable choice for those needing to get around in crowds  or zip in and out of tight places with ease while at the same time respecting the Earth's desperate need for healing from the devastating effects of smog-spewing, gas eating motors.

I got a chance to tool around on the TRX E1050 today. I found it a vastly superior way to get around a warehouse than other scooters. Built much like a Segway, but at less than 1/10th the cost and a fraction of the Segway's weight, the stylish TRX Personal Transporter Electric Scooter is safer than the Segway too, because the TRX designers thought to put in a third wheel for added stability.

Security personnel and warehouse workers needing to move across great distances filled with obstacles will appreciate this model's nimble handling. The super responsive handlebars are made of a high quality, lightweight chromed aluminum, and turn on command so you can avoid sudden impediments that can come your way.

The TRX Personal Transporter comes armed with two belt driven 150 watt electric motors that can move riders along at a 12 mph clip. The batteries, a 3-cell SLA set, provides enough punch to carry you up to 15 miles.

It's frame is made of high grade, extremely strong steel, and is covered by a durable and attractively designed ABS plastic body. Two 8" pneumatic air tires in the rear are assisted by a 124mm urethane wheel, while the 15" pneumatic tire up front rounds out the scooter's offerings to more easily allow the rider to not only move along at a decent clip, but this electric scooter is also capable of doing sustained wheelies and other scooter tricks too.
Details

Written by

Terry Firma

Category: Transportation
Hits: 4486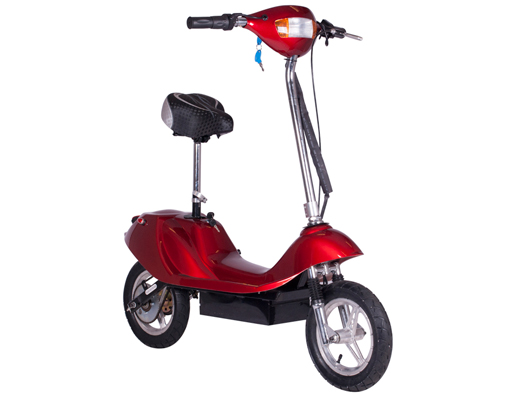 X-Treme's new X-370 Electric Scooter is an ideal choice if you're searching for one that will let you stay mindful of your carbon footprint and lessen your impact on this polluted planet we call home. It's affordable and stylish, and fast to boot.

My mom was looking for an affordable yet nice electric scooter the other day, but didn't want to ride in one of those ones you get from medical supply stores which make you look disabled. Though she has trouble getting around these days, she cares about style and quality, and so the X-370 came to be her first choice in a scooter that could get her around town without using her gas guzzling, smog belching car.

The X-Treme X-370 electric scooter can reach speeds of up to 21 mph, with its beefy 350 watt, chain driven motor. The 3-cell battery pack has a 36-volt, 30-amp punch that can carry you for up to 20 miles on a single charge.

When it's time to come to a stop, the X-Treme X-370 electric scooter features a rear drum braking system that has an automatic safety inhibit feature that automatically disengages the throttle whenever the brake lever is pulled. My mom appreciated this safety feature a lot, though I have to admit she really admired the scooter's durable ABS plastic "dolphin style" body that was sleek and stylish.