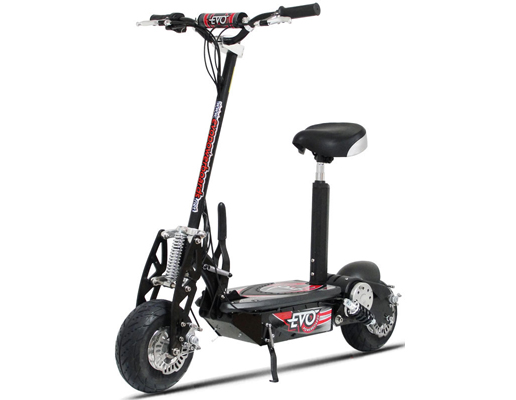 The Evo 1000w Electric Scooter / Powerboard is this weeks featured product in our Eco-Friendly Transportation Series. If you're looking for a fun electric scooter that can move you along at up to decent 26 mph clip, at the same time being respectful of our environment, look no further than the Evo 1000w Electric Scooter. It's fast and yet efficient, and easy to ride and navigate to wherever you need to go.
I was most fortunate to get a chance to test drive the Evo 1000w Powerboard yesterday. At once, I found it to be a smart looking and top notch performing scooter, and it was stylish looking too, catching the envying looks of people nearby. What's more, I found it to be an extremely well built electric scooter, which made it a dream to ride around.
Packed with high quality, top of the line components, the Evo 1000w leaves its competitors behind in the dust, in my opinion. It has a beefy 1000 watt engine that packs a full one horsepower punch, making it move like a rocket. Just twist the throttle and off you go, with an engine that is at once quite responsive and powerful.
Though it can reach a top speed of 26 mph and has a range of 10 miles on a fully charged battery pack, the Evo 1000w electric scooter rider can easily conserve power by utilizing the motor's "Economy Mode," which extends the scooter's range by limiting its top speed and rate of acceleration.
The Evo 1000w's battery pack has three12 volt, 12 amp cells which provide a total of 36 volts to power the engine. It's lightweight and compact, which makes it easy for a rider to carry a spare for a swap-out when depleted. The included charger can get a depleted battery pack up to full charge in as little as 4-8 hours.
The drive system on the Evo 1000w is a chain drive. Front and rear disck brakes make stops and starts smooth and easy. Coming to a full stop is simple which I didn't expect when traveling at the fastest speeds.
This Evo electric powerboard comes in at just 79 lbs. net weight, and can easily carry a rider up to 265 lbs. The scooter has 10" pneumatic street tires, which makes the scooter ideal for asphalt and cement surfaces.
Puzey designed this model to fold down for storage and transport with the Posi-lock folding system.
Source, PR.com:
Evo 1000w Electric Scooter Powerboard