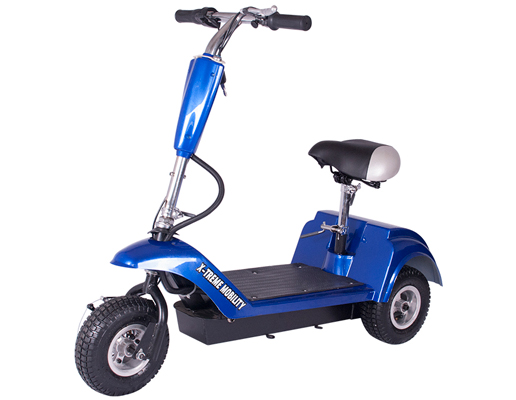 X-Treme offers an electric scooter that is a perfect replacement for those smog spewing gas guzzlers: the XMB-320 three wheel electric scooter.
I was brought up in a large family that had lots of cars and trucks about the property. As I grew older and got educated, I came to realize what a wasteful lifestyle that really was. All that money spent on gas. All that pollution spewing out the tailpipe and contributing to the awful smog layer. Well, I made a promise to myself that when I had a place of my own, I would be more responsible and thoughtful. With the X-Treme XMB-320, I found it quite easy to put away my car and do my local chores in an environmentally responsible manner.
The XMB-320 electric scooter is powered by a 350 watt brushless electric motor, fed by three 12 amp sealed lead acid batteries. It's one of the fastest models on the block, with a top speed of about 10 mph, and it can last up to 20 miles on a single charge, which makes it extremely easy to go shopping, tool around to friends' houses for a visit, and just simply sightseeing from a new perspective. There is no question in my mind that stability is key on the XMB-320. The three wheels assure that you won't be falling over if you need to quickly steer out of the way of an obstacle, or brake suddenly to avoid hitting a car that darts out unthinkingly in front of you.
The X-Treme XMB-320 was designed with all top of the line, quality components. It is one of X-Treme's lightest and most compact mobility scooters on the market today. It's a comfortable ride, with the cushy bicycle style seat and the dual hydraulic shocks on the rear wheel. Combined with the power of the engine, this makes for one smooth and comfy ride.
Coming in at just 66 lbs., the XMB-320 can be folded down a bit for storage in the garage or on the side patio. The handle pole folds down, and the seat post is removable. The scooter can accommodate a single rider up to 300 lbs., which handles just about anyone.
I really appreciate that X-Treme is a company dedicated to making our environment more livable. All of their products are geared towards this admirable goal, and I would not hesitate to recommend this model to any of my family and friends seeking a viable alternative to getting around town in an environmentally responsible manner.
Source: PRLog.com,
X-Treme XMB-320 Three Wheel Electric Scooter