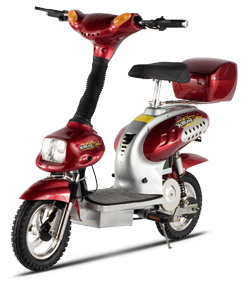 The X-treme XB-562 Electric Bike is our choice for this weeks installment of our Eco-Friendly Transportation series!

The X-Treme XB-562 is a sorty, moped like electric bike that is a real head turner. The XB-562 hits speeds of up to 18 mph for up to 18 miles. It can be ridden like a regular bike, operate on 100% electric power, or any combination of the two. The XB-562 is packed with great features, including; a 500 watt motor that can handle medium sized hills and moderate terrain, front and rear dual spring loaded shocks, front and rear brakes, a full sized front headlight, an oversized seat, chrome motor caps, and full front and rear fenders. While you have to register and hold a driver's license to operate a moped, the XB-562 is classified as an electric bicycle. The "electric bicycle" classification allows you to operate it without registration or a driver's license in most states (please contact the DMV to check the laws in your area before purchase).
As an added bonus, because the XB-562 is electric, it's environmentally friendly, noise-free, and economical. If you're looking for a practical, fun and comfortable electric bicycle that's great for commuters and bypassing the price at the pump, the XB-562 is the one for you.

Electric Bikes are also commonly referred to as E-Bikes; most are basically bicycles with electric motors used to power them.  This type of bike is perfect for meeting all of your short-distance transportation needs like running errands or commuting to work. If you are a student, they are great for getting around campus. One of the best things about E- Bikes is that they are very versatile. If you feel like getting some exercise, you can just pedal. If you find yourself getting tired, just go electric!  Did you know that some of the earliest patents for electric bicycles were issued in the 1890s? That's pretty impressive!

For more information, click here: X-treme XB-562