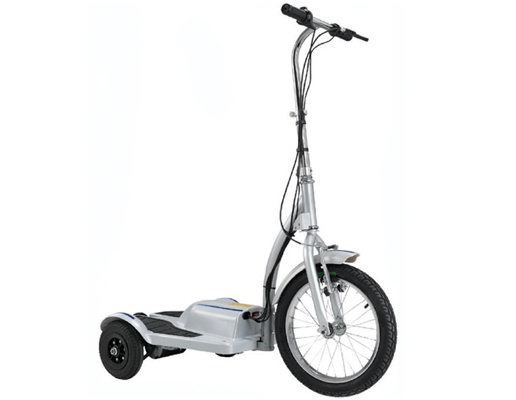 The TRX Personal Transporter Electric Scooter, model #E1050 is an ideal and quite affordable choice for those needing to get around in crowds  or zip in and out of tight places with ease while at the same time respecting the Earth's desperate need for healing from the devastating effects of smog-spewing, gas eating motors.

I got a chance to tool around on the TRX E1050 today. I found it a vastly superior way to get around a warehouse than other scooters. Built much like a Segway, but at less than 1/10th the cost and a fraction of the Segway's weight, the stylish TRX Personal Transporter Electric Scooter is safer than the Segway too, because the TRX designers thought to put in a third wheel for added stability.

Security personnel and warehouse workers needing to move across great distances filled with obstacles will appreciate this model's nimble handling. The super responsive handlebars are made of a high quality, lightweight chromed aluminum, and turn on command so you can avoid sudden impediments that can come your way.

The TRX Personal Transporter comes armed with two belt driven 150 watt electric motors that can move riders along at a 12 mph clip. The batteries, a 3-cell SLA set, provides enough punch to carry you up to 15 miles.

It's frame is made of high grade, extremely strong steel, and is covered by a durable and attractively designed ABS plastic body. Two 8" pneumatic air tires in the rear are assisted by a 124mm urethane wheel, while the 15" pneumatic tire up front rounds out the scooter's offerings to more easily allow the rider to not only move along at a decent clip, but this electric scooter is also capable of doing sustained wheelies and other scooter tricks too.
Clocking in at a mere 63 lbs., the TRX Personal Transporter doesn't skimp on comfort. The scooter's extra wide standing platform handily accommodates riders up to 200 lbs. The transporter scooter offers riders a smooth and rapid stopping experience, due to the high quality front drum braking system that engages as rapidly as the rider desires.
Other features include fully adjustable height, 20" billet aluminum racing style handlebars which easily fold and lock down for transport and easy storage, an on/off switch ignition, a battery gauge and Smart Charger, and a tool kit.
Source,
PRLog.org: TRX Personal Transporter Electric Scooter E1050