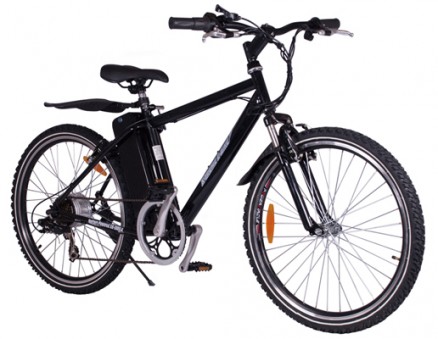 X-Treme's new XB-300-SLA Electric Mountain bike is perfect for entry level or novice mountain bikers with a passion for riding in the great outdoors. You can enjoy the weather and the sport while at the same time take care not to expand your carbon footprint on this weary planet.

As I tested this mountain bike, I really came to like it in pretty short order. The X-Treme XB-300-SLA is probably the lowest cost quality electric mountain bike on the market today. But it's packed with high end features that make it a real bargain, and it's a rugged and attractive looking bike to boot, one that I would not hesitate to ride with others sporting much more expensive models.

The XB-300-SLA mountain bike has an ample 300 watt brushless electric motor, fed by two 12-volt, 12-amp SLA batteries that can keep you moving at a top speed of 20 mph for up to 10 miles on a single charge, without pedaling. You can go faster and farther if you help, so get those legs pumping!

Showcasing a high quality and reliable 7-speed Shimano Tourney gear and shifter system, the XB-300-SLA electric bike has a TZX-31 rear dérailleur and gearbox. You can just pedal, or use the Twist and Go (TAG) system for that extra boost to make it up that hill. If you want to make pedaling easy, you can activate the Pedal Assist (PA) mode, which makes the engine come on for a little boost after every 360 degree rotation of the pedals.
The X-Treme XB-300-SLA mountain bike has a high quality 18" steel frame that is really strong. The front and rear caliper brakes stop you on a time, and the ultra responsive aluminum handlebars can keep you out of trouble on rocky terrain. High end Kenda pneumatic tires, coming in at 26" x 1.95", are knobby and take as much dirt as you can throw at them, keeping you moving forward where others might let you waste time sliding around.
This is one fun, great looking mountain bike. I could tell that X-Treme's designers didn't want budget-minded riders to suffer low quality parts, so they made sure to pack the XB-300SLA with top end parts so that you can ride in comfort and with a sense of safety, and not worry about your bike breaking down on a hill.
Source, PR.com:
X-Treme XB-300-SLA Electric Mountain Bike