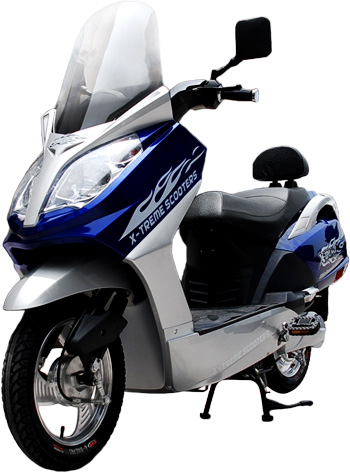 This week's installment of our Eco-Friendly Transportation series features the X-Treme XB-700Li.
The XB-700Li is the top quality Electric Bike from X-Treme Scooters. It's an improved adaptation of the X-Treme XB-600 Electric Bike. The upgrades are both impressive and plentiful: an additional 100 watts of power, cutting edge 51.2 volt, 40.0 ah Lithium LiPo4 batteries, and an modernized body style to top it off!
The new Lithium LiPo4 Battery system is small and light compared to the older sealed lead acid (SLA) batteries, and they offer a good deal more range.  In contrast to a mere life of 1-3 years for SLA batteries (depending on usage) the life of the 32 Lightweight Lithium LiPo4 batteries is 7-10!
The 700 watt / 1 HP electric motor gets you up to 20 mph for up to 25-35 miles without pedaling. It puts out plenty of power to take medium sized hills and moderate terrain. The XB-700Li can be ridden like a regular bike, operate on electric power alone, or any combination of the two. This is a perfect for folks who wish to use their bikes for either physical activity or commuting. They can choose to opt out of using the electric battery and pedal for fitness, or power up when they are commuting to work or school.
The X-Treme XB-700Li is crammed with nearly all of the features you find on an electric moped at a fraction of the cost! Standard features include, a fully adjustable seat, smart battery charger, dual sport headlight system, tool kit and much more.
It gets better, while you have to register and hold a driver's license to operate a moped, as long as the pedals are installed; the XB-700Li is classified as an electric bike. The "electric bicycle" classification allows you to operate it without registration, insurance or a driver's license in most states (please contact your local DMV and check the laws in your area before purchase).
The XB-700Li electric bike is environmentally friendly, noise-free, and economical. Electric bikes offer commuters a terrific way to bypass high prices at the pump!
For more information, click here: X-Treme XB-700Li Electric Bike.