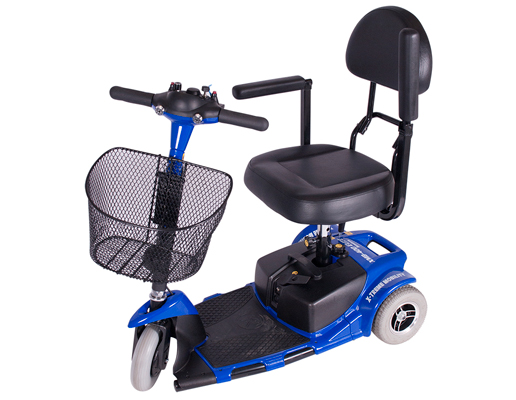 The X-Treme XMB-400 Electric Mobility Scooter is the Eco-Friendly Transportation Series review of the week. It's hard getting older. My father tells me that every day. Not only is it harder for him to get around, it's harder for him to continue to be a responsible citizen, making sure to lessen his carbon footprint on this poor planet we call home. So as he finds it harder to walk, he finds that he needs to use his car more often to get around, especially for short local trips. He asked me for a good alternative, and I found him one: X-Treme's new XMB-400 Elite Folding Electric Mobility Scooter.
Completely street legal everywhere, the XMB-400 Elite is an ideal choice for seniors, and anyone else too, needing a lightweight and compact mobility scooter. You won't be contributing to the smog layer any more when you mount up on this stylish and affordable scooter.
The X-Treme XMB-400 Elite has a powerful 180 watt electric motor that is capable of reaching speeds of up to 4 mph in forward gear, and 2 mph in reverse. Two 12 volt, 12 amp batteries are capable of carrying a rider up to 10 miles on a single charge, and the included Smart Charger can get you back on the road in as little as four hours.
My dad likes the fact that the XMB-400 electric scooter can handle a 15 percent incline, as the local streets of our town are pretty hilly in some areas. The three solid rubber 2.5" x 8" tires are capable of gripping asphalt and cement with ease, assuring the rider has a smooth and safe ride about town, running errands or just traveling about to see neighbors and local friends.
The X-Treme XMB-400E Elite is safer still because of a very special built-in feature: the electric, regenerative-release throttle, which automatically engages the brakes whenever the rider eases off the throttle. It will hold the scooter in place even on an incline, which is a real plus for my father. He doesn't have to worry about braking at all.
A very cushy, shelf style seat sports a padded back rest and padded arm rests as well, which are foldable for storage. That makes this medical scooter a great choice for riders who need comfort for longer rides. And the front-mounted basket is deep enough to hold a bag of groceries, or a picnic basket and blanket, or a coat or two for inclement weather.
Source, PRLog.org:
X-Treme XMB-400 Elite Electric Mobility Scooter