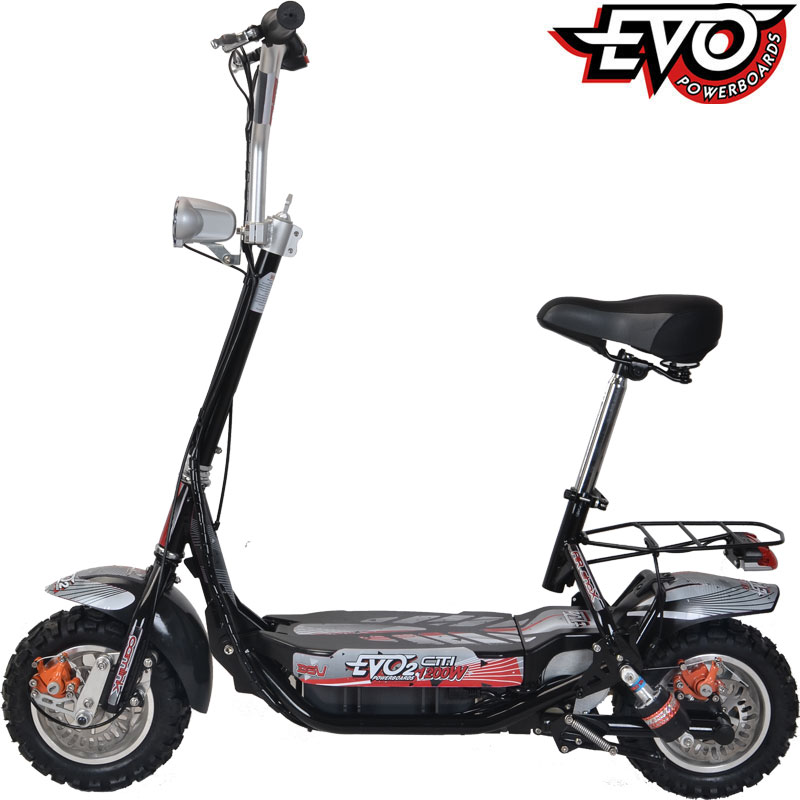 The Puzey designed Evo Citi 800w Electric Scooter Powerboard, which threatens to upset the market due to its high quality features that helps you to ease your carbon footprint and help keep our planet's air clean and breathable.

Capable of being ridden either standing or sitting, the Evo Citi 800w is a comfortable, sporty choice for those seeking components not seen on competitors' similar electric scooters.

First, the Evo Citi 800w Powerboard sports a high-grade twin tube steel frame with quality welding throughout, complemented by an advanced front "Cam-Link" true mono-shock suspension system. With the twin rear shock suspension, system, the scooter offers the rider a smooth and stable ride.

Two 11" pneumatic knobby front and rear rubber tires are mounted on super strong custom forged aluminum alloy rims, and are protected by front and rear fenders which are painted with a durable water resistant coating.

Super reliable and responsive steering is provided by custom Riser handlebars, which offer you a more comfortable ride while either seated or standing. And when you're tired of standing, just mount the cushy, quick release Ergo bicycle style seat, which is mounted on a fully adjustable post to accommodate riders of most any stature.

If you're looking for power, the Evo Citi 800w electric scooter has got you covered with its powerful 800 watt brushless motor that provides over one full horsepower, propelling riders forward at top speeds of 20-24 mph. Electric is provided by a lightweight 3-cell 36 volt battery pack, which gives you a 10 mile range (more or less depending on rider weight and terrain ridden), which can be recharged in as little as 4-8 hours.
The Evo Citi 800w's rear wheel chain drive system can be easily adjusted with one simple action without having to align the rear wheel, a feature that Puzey calls the "One-Touch Chain Tensioning System."
The electronics and controller are water resistant, making this powerboard ideal for riding in adverse conditions. You can off-road in speed and style on the scooter.
The Evo Citi 800w can accommodate riders up to 265 lbs. It is a Posi-Lock foldable scooter, which comes in at just 71 lbs., perfect for storage or transport. Its riding condition dimensions are 46" x 43".
Other features include an LED battery level indicator, a smart battery charger, an on/off ignition switch, and a kickstand.
Source, PR.com:
Evo Citi 800w Electric Scooter