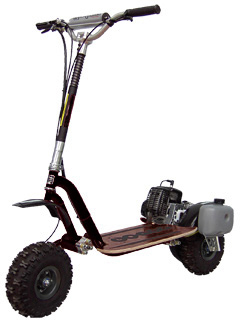 The
Go-Ped Trail Ripper
is the next featured product in our "Eco-friendly Transportation Series," and should be of special interest to our outdoorsy readers.
The
Go-Ped Trail Ripper
was born to conquer the off-road environment! If you are tired of the daily routine and wish to get out with an environmentally friendly vehicle, then look no further. The Trail Ripper features a ground-breaking suspension system (Cantilevered Independant Dynamic Linkless Indispension) with front and rear swing arms that give the scooter unbelievable flexibility on off-road landscape. The swing arms are made of especially light magnesium and produce a very low unsuspended weight, allowing the wheels to stay in better contact with uneven ground. The effect is outstanding trail riding in addition to handling characteristics.
The design also greatly uncomplicates any maintenance issues. To accommodate a variety of rider skills, weights and preferences, the suspension can be tuned from "plush" to "firm" with its adjustors. These adjusters raise and lower its natural damping characteristics as well.
The lightweight framing, engine, and folding handlebar system help make the Go-Ped Trail Ripper 46 a very light weight machine. When you consider its truly revolutionary C.I.D.L.I. suspension, 4.5 horsepower GP460RS motor, superior Mad Dog Disc brakes, and other race quality features, it's easy to see that other off-road scooters simply don't compare to the Go-Ped Trail Ripper. Like all Go-Ped Scooters this baby is fast to boot, and can reach speeds of 30 mph, with a  range of 80-60 mpg.
Go-Ped launched the motorized scooter craze over 20 years ago and have been designing the most high-end, innovative and refined scooting machines ever since. Go-Ped's are made in the USA and the company is world renown for its dedication to Go-Ped perfection.