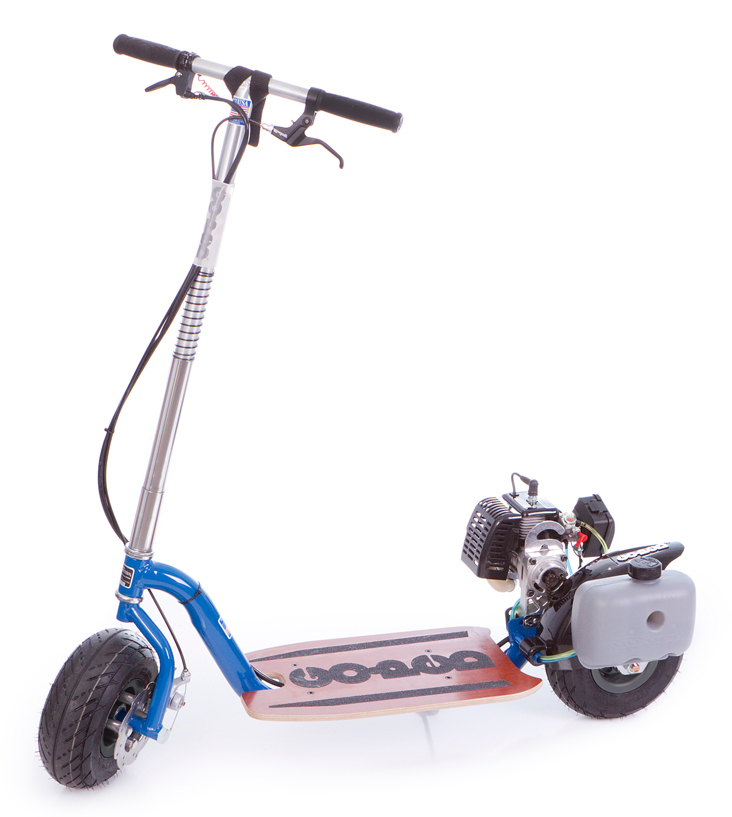 The next item to be featured in our latest installment of our "Eco-Friendly Transportation Series" is The
GSR Cruiser
gas powered scooter!
This baby is one of Go-Ped's best selling models. It's great for novices who want an inexpensive, comfy, secure and easy-to-learn beginner's scooter. It's also great for scooting aficionados who love all the aftermarket parts available to tweak the scooter. Chassis upgrades and screaming engines mods are widely available.
The
GSR Cruiser
has plenty of power for top speeds around 24 mph and torque for fast starts and great hill climbing. The 29cc GPL290 engine is much more hushed and more "neighbor friendly" than the beefier engines found on Go-Ped's competition scooters. The GSR Cruiser is geared for great all around performance. The centrifugal clutch allows the engine to accelerate or decelerate seamlessly. Stopping power comes from the front Mad Dog caliper and double ground and hardened stainless steel Wave disc rotor braking system. The GSR Cruiser is extremely reliable and the frame is bullet proof.
Go-Ped started the motorized scooter trend over 20 years ago and has been designing the most top-notch, innovative and refined scooting machines ever since. Go-Ped's are made in the USA and the company is world renown for its dedication to Go-Ped perfection.