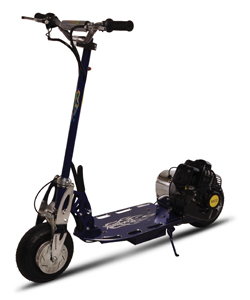 Thus far in our "Eco-Friendly Transportation Series" we have been focusing on Go-Ped. Today we decided to feature a different distributer that has also been receiving lots of praise, particularly because of it's affordability, X-Treme Scooters.
The  X-Treme XG-505 Gas Powered Scooter is our choice for our first X-Treme Product review.  The XG-505 has all of the same features as its electric counterpart, the X-Treme X-500 except the XG-505 is much faster!
X-Treme left no stone unturned when they designed the XG-505, this model has everything a scooter rider could want, including; a 50cc motor, an aluminum billet deck, 10" air filled tough tires, aluminum mag wheels, electric start, front and rear vented disk brakes, and billet head badge aluminum BMX-style gooseneck racing handlebars.
As an extra touch, the X-Treme flame logo is machine engraved right into the aluminum plate deck.