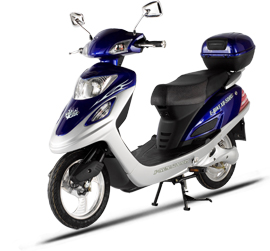 Next in line for our weekly installment of our Eco-Friendly Transportation series, is the stylish and sleek X-Treme XB-502 Electric Bike.
Electric Bikes are also commonly referred to as E-Bikes; most are basically bicycles with electric motors used to power them.  This type of bike is perfect for meeting all of your short-distance transportation needs like running errands or commuting to work. This particular Electric Bike is styled to look like a moped. Not only is it fashionable, but because it's all electric, it's sure to save you some pennies at the pump.
The XB-502 can be ridden like a regular bike, for those of you who like the exercise; it also operates on 100% electric power, or any combination of the two. This is an excellent feature to have if you are out commuting and suddenly get really tired. Going electric will give you that extra boost you need to get going!
Making the switch away from the gas guzzler won't be much of a sacrifice at all; the 500 watt motor gets you up to 20 mph for up to 25 miles on a single charge. Of course the range is unlimited should you choose to pedal. It even creates plenty of power to take medium sized hills!
The X-Treme XB-502 is decked out with nearly all of the same features you find on an electric moped but at a fraction of the cost! Explore the standard feature list; it's very impressive! Perhaps on of the best things about this E-Bike is that you don't even have to register and hold a driver's license to operate the XB-502 because is classified as an electric bicycle. If you rode a moped, you would need all of those things! The "electric bicycle" classification allows you to operate it without registration or a driver's license in most states (please contact the DMV to check the laws in your area before purchase). The XB-502 electric bike is emissions free, so it's environmentally friendly. It's also practically noise-free and operates on just pennies a day. Electric bikes offer commuters a great way to reduce emissions and save money! Want to take a look at a sportier alternative? Check out the X-Treme XB-508.
For more information click here: X-Treme XB-502 Electric Bike