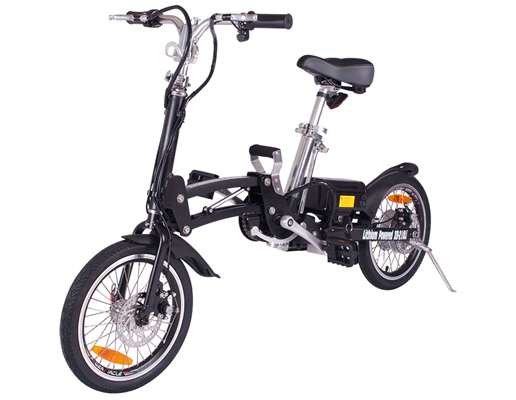 The X-Treme XB-210Li Super Folding Electric Bike is this weeks featured product in our Eco-Friendly Transportation Series.
Today I had the pleasure of taking X-Treme's XB-210Li Folding Electric Bike for a test run, and I've got to tell you, this is one sweet ride that will make you glad to abandon your gas guzzler/smog spewer for local trips and running errands about town, or as a quick get about on camping trips.
The XB-210Li is a medium sized bike, but it packs a lot of punch in its rear wheel mounted, 300 watt electric motor that can quickly get you up to speed at 15 mph unassisted. The lightweight battery pack, filled with seven lithium ion batteries, provides the 24 volts of juice for the XB-210Li, and it's easily removable for a swap out if you go beyond its 20-25 mile range (more, of course, if you pedal).
The tires are larger on the XB-210Li than its little brother, coming in at 16". The rubber is high quality Kendra, and they are mounted on light but super strong aluminum rims. The larger tires make for a smooth and easy ride, and if you need to park somewhere and lock it up, you can even use the quick release on the front hub to remove the front rim and take it with you for extra security.
When you need to come to a stop, the XB-210Li's well made front and rear disc brakes bring you to a halt pretty quickly. Between this bike's excellent maneuverability and these brakes, you can jet around any obstacle that might come in your path as you ride through town.
But the sweetest thing about the XB-210Li is its light weight and portability. The bike comes in at just 42 lbs. with the battery pack installed. When you want to stow it away, either for storage or to take it somewhere else in your car, the XB-210Li folds down quickly and easily to a mere 31" x 36" x 7", and can fit in a locker, under a desk, or on the back seat, and it unfolds back up to full ridable condition just as simply and as fast as you folded it.
The ride itself was nice and comfortable, with a fully padded, spring loaded seat that won't make you sore on a long ride. The steering was super responsive, and I was able to quickly dart around a kid's ball that had been suddenly thrown into the street in front of me. I felt extremely safe riding the XB-210Li and would not hesitate to recommend it for adults and children alike.
Source: PR.com,
X-Treme XB-210 Super Folding Electric Bike