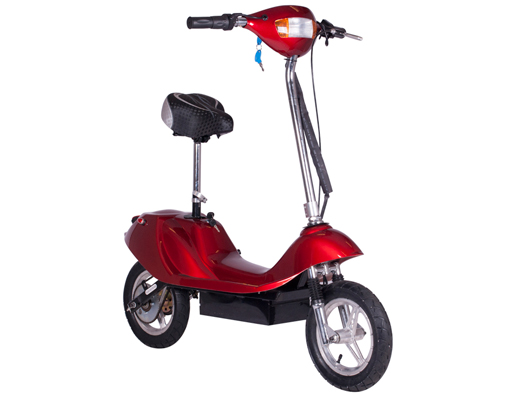 X-Treme's new X-370 Electric Scooter is an ideal choice if you're searching for one that will let you stay mindful of your carbon footprint and lessen your impact on this polluted planet we call home. It's affordable and stylish, and fast to boot.

My mom was looking for an affordable yet nice electric scooter the other day, but didn't want to ride in one of those ones you get from medical supply stores which make you look disabled. Though she has trouble getting around these days, she cares about style and quality, and so the X-370 came to be her first choice in a scooter that could get her around town without using her gas guzzling, smog belching car.

The X-Treme X-370 electric scooter can reach speeds of up to 21 mph, with its beefy 350 watt, chain driven motor. The 3-cell battery pack has a 36-volt, 30-amp punch that can carry you for up to 20 miles on a single charge.

When it's time to come to a stop, the X-Treme X-370 electric scooter features a rear drum braking system that has an automatic safety inhibit feature that automatically disengages the throttle whenever the brake lever is pulled. My mom appreciated this safety feature a lot, though I have to admit she really admired the scooter's durable ABS plastic "dolphin style" body that was sleek and stylish.
I really appreciated more what was underneath that attractive sheen. I knew mom would be safe due to the X-Treme X-370's high tensile steel frame, which is strong and well made and capable of supporting riders up to 350 lbs. The front suspension forks were super high quality and assured me that she would not have to experience any disorienting jolts and jarring if she hit a rock or bump while on the road.
I also liked the fact that the X-370 comes in at just 59 lbs., making this one easy scooter to transport when she wants to go on trips. She liked the ultra plush, spring loaded seat, while I appreciated the 12.5" x 2.25" high quality pneumatic street tires mounted on strong chrome mag wheels.
This model can be folded down at the handlebars for easy storage, and has nice safety features including a headlight, front and rear turn signals, a keyed ignition switch, a battery charge indicator, electric horn, and tail and brake lights.
Source, PR.com:
X-Treme X-370 Electric Scooter