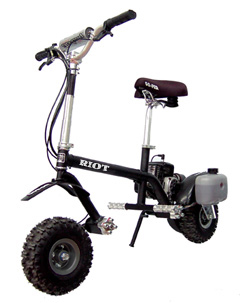 The
Go-Ped Riot 46
is the next installment in our "Eco-Friendly Transportation Series." For those of you who read this blog regularly, this vehicle may look familiar. This is because the Riot 46 is the newer version of the  Go-Ped Riot 29. The Riot 46 dons an upgrade to the power plant and tires.
You'll get a 4.5 HP GP460RS gas powered engine pushing this machine to a top speed of 30 mph. 4" x 11" Carlisle "Badlands" knobby pneumatic tires are standard. The Riot 46 strives to meet the demand from pit bike riders for a high powered, top-quality, very compact, lightweight, economical off-road bike, and we feel that it has surpassed these expectations. And like all of Go-Ped's competition scooters, this baby gets about 60-80 miles per gallon. You will most likely save money while doing your part for reducing emissions. What is not to love?
Using the patented Trail Ripper adjustable suspension system in the front and rear, it provides riders great off-road capabilities with 6" of travel on each end. The
GoPed Riot 46
weighs in at only 48 lbs, for those of you who dislike bulky vehicles.  It's designed to be an enjoyable ride in a hassle free package that can be carried just about anywhere you go. The extremely comfortable gel-filled seat can be adjusted to suit your specific needs. It also detaches for trouble-free storage.
Go-Ped started the motorized scooter movement over 20 years ago and has been providing the world with some of the most high-end, ground-breaking and refined scooters ever since. Go-Peds are made in the USA and the company has earned global notoriety for its dedication to excellence.