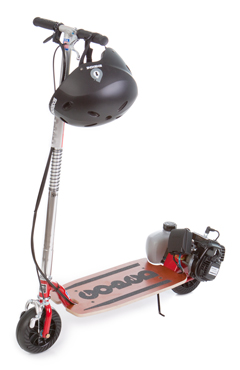 The next installment in our "Eco-Friendly Transportation Series" features a scooter from one of our Favorite Manufacturer's, Goped.  You may not know this, but Go-Ped is famous for launching the motorized scooter frenzy nearly twenty years ago.  And today, we are going to focus on the Original California Go-Ped:
The Go-ped Sport Gas Scooter
.
This American classic was a groundbreaking machine, and it's still remains timeless and impressive. The
Go-Ped Sport
is a solid, no frills gas scooter that's very dependable and effortless to maintain. It's ideal for teens and active adults who expect a  top quality product at a great price.
The Go-Ped GPL290 engine is petite and light weight, yet powerful. It provides smooth, exhilarating acceleration, top-notch hill climbing torque and speeds of up to 22 mph. It has been reconfigured for excellent reliability and fuel economy and is much quieter (neighbor friendly) than Go-Ped's competition racing motors.
This engine variation is created simply through its modified cylinder that has smaller intake and exhaust ports, a non-adjustable carburetor and intake silencer. A unique feature of the Sport is the original, simple and reliable Go-Ped direct friction drive system. Direct drive doesn't allow the original Sport to idle like the GSR Sport, but if you disengage the direct drive you can operate the Sport like a push scooter. The heavy duty aircraft quality steel frame supports up to 400 lbs. The wide, low riding platform gives a smooth and stable ride, and the scooter folds for easy storage and transport. The Go-Active™ rubber tires are solid which means no flats!