Details

Written by

Terry Firma

Category: Transportation
Hits: 4353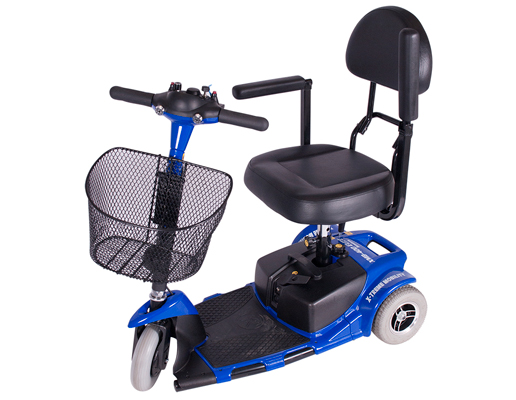 The X-Treme XMB-400 Electric Mobility Scooter is the Eco-Friendly Transportation Series review of the week. It's hard getting older. My father tells me that every day. Not only is it harder for him to get around, it's harder for him to continue to be a responsible citizen, making sure to lessen his carbon footprint on this poor planet we call home. So as he finds it harder to walk, he finds that he needs to use his car more often to get around, especially for short local trips. He asked me for a good alternative, and I found him one: X-Treme's new XMB-400 Elite Folding Electric Mobility Scooter.
Completely street legal everywhere, the XMB-400 Elite is an ideal choice for seniors, and anyone else too, needing a lightweight and compact mobility scooter. You won't be contributing to the smog layer any more when you mount up on this stylish and affordable scooter.
The X-Treme XMB-400 Elite has a powerful 180 watt electric motor that is capable of reaching speeds of up to 4 mph in forward gear, and 2 mph in reverse. Two 12 volt, 12 amp batteries are capable of carrying a rider up to 10 miles on a single charge, and the included Smart Charger can get you back on the road in as little as four hours.
Details

Written by

Terry Firma

Category: Transportation
Hits: 6973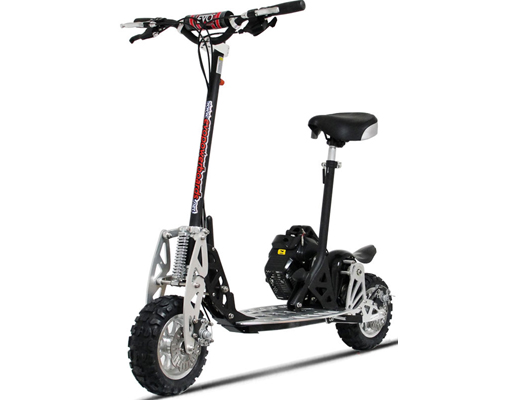 The Evo 2x Big 50cc Powerboard is featured in this weeks Eco-Friendly Transportation Series. If you find yourself in need a gas powered scooter that is easy on the carbon footprint yet is fast and responsive and a whole lot of fun too, Puzey Motor Corp. has just come out with a new model, the Evo 2x Big 50cc Gas Scooter. I had a chance to test this scooter today, and I've got to say that I am impressed, and I am not easily impressed.
Capable of reaching speeds upwards of 35 mph, the Evo 2x packs a lot of punch in its EPA-approved air-cooled engine. It's a 50cc, 2-stroke motor that puts out a full two horsepower, which provides a ton of raw power for the rider to enjoy. The engine has a conveniently located pull starter, which starts up the scooter quickly and easily.
Riders can expect a 20 mile range per tankful of gas, more or less depending on the terrain ridden and rider weight. The scooter gets 85 mpg. It can carry a 265 lb. rider with ease.
The Evo 2x Big 50cc Powerboard is chain driven, and when needed, the chain can easily be tightened with Puzey's "One Touch Tensioning," which allows you to tighten the drive chain with one simple and easy motion, without having to align the rear wheel.
Details

Written by

Terry Firma

Category: Transportation
Hits: 2626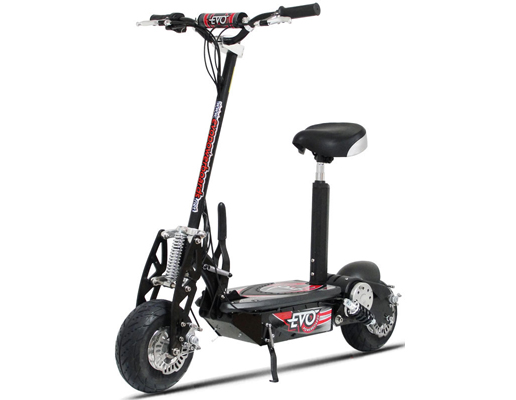 The Evo 1000w Electric Scooter / Powerboard is this weeks featured product in our Eco-Friendly Transportation Series. If you're looking for a fun electric scooter that can move you along at up to decent 26 mph clip, at the same time being respectful of our environment, look no further than the Evo 1000w Electric Scooter. It's fast and yet efficient, and easy to ride and navigate to wherever you need to go.
I was most fortunate to get a chance to test drive the Evo 1000w Powerboard yesterday. At once, I found it to be a smart looking and top notch performing scooter, and it was stylish looking too, catching the envying looks of people nearby. What's more, I found it to be an extremely well built electric scooter, which made it a dream to ride around.
Packed with high quality, top of the line components, the Evo 1000w leaves its competitors behind in the dust, in my opinion. It has a beefy 1000 watt engine that packs a full one horsepower punch, making it move like a rocket. Just twist the throttle and off you go, with an engine that is at once quite responsive and powerful.
Details

Written by

Terry Firma

Category: Transportation
Hits: 3531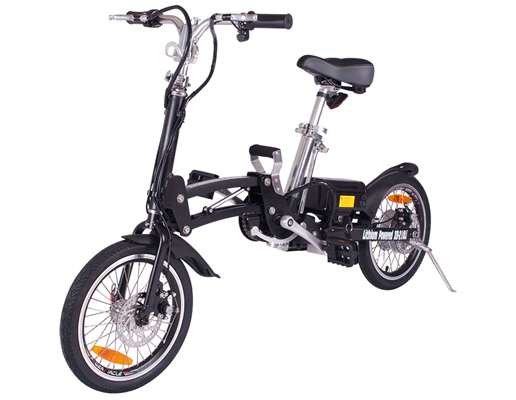 The X-Treme XB-210Li Super Folding Electric Bike is this weeks featured product in our Eco-Friendly Transportation Series.
Today I had the pleasure of taking X-Treme's XB-210Li Folding Electric Bike for a test run, and I've got to tell you, this is one sweet ride that will make you glad to abandon your gas guzzler/smog spewer for local trips and running errands about town, or as a quick get about on camping trips.
The XB-210Li is a medium sized bike, but it packs a lot of punch in its rear wheel mounted, 300 watt electric motor that can quickly get you up to speed at 15 mph unassisted. The lightweight battery pack, filled with seven lithium ion batteries, provides the 24 volts of juice for the XB-210Li, and it's easily removable for a swap out if you go beyond its 20-25 mile range (more, of course, if you pedal).
The tires are larger on the XB-210Li than its little brother, coming in at 16". The rubber is high quality Kendra, and they are mounted on light but super strong aluminum rims. The larger tires make for a smooth and easy ride, and if you need to park somewhere and lock it up, you can even use the quick release on the front hub to remove the front rim and take it with you for extra security.
Details

Written by

Terry Firma

Category: Transportation
Hits: 7878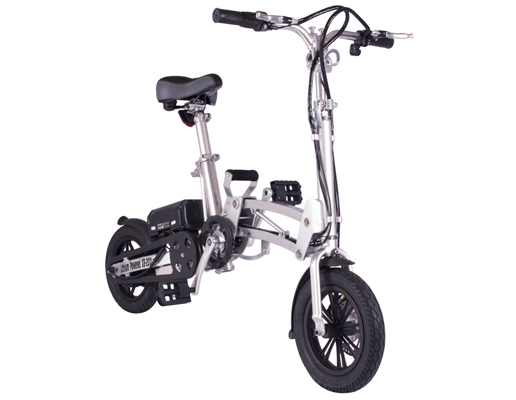 I enjoyed reviewing the X-Treme XB-200Li because being easy on the environment while moving around town is very important to me. In fact, that's why I avoid the use of my car whenever possible, and walk when I can. When I can't reach a place I need to be in a reasonable time by walking, I have come to rely on a trustworthy and speedy electric bike.
Today I got to test X-Treme's new XB-200Li super folding electric bike, and man, was I ever pleased with the build and performance of this bicycle. It's easy to haul around, coming in at only 39.5 lbs., and folds down to an extremely compact 25" x 31" x 7", which can easily fit under a desk or in the back seat of a compact car. The folding feature is extremely cool. I've never seen an electric bike fold down to such a small size.
There was minor assembly required, but it was a snap and went pretty quickly. After adjusting the seat and handlebars, I was up and ready to go. I took off down my dead-end street and was amazed at how zippy and responsive this XB-200Li electric bike is.